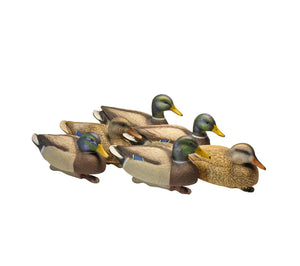 Bigfoot™ Floating Oversized Flocked Mallards 6 pk. + Harvester Game Strap + Camo Hat
Sale price Price $99.99 Regular price $134.99
Bigfoot™ Floating Oversized Flocked Mallards 6 pk.
Greenheads & Suzys
Features
Packed 6 to a box: 4 drakes. 2 hens.
Drakes (Flocked Heads) - 16" x 6 ½" x 6 ½"
Hens (Painted Heads) - 13 ½" x 6 ½" x 5 ½" 
Bigfoot's detail on the iconic iridescent green head of the Mallard drake is hard to beat. The Mallard is as breataking as it is common, making it a staple duck in every hunter's decoy collection. 
Feather detail is molded in hand painted for a soft, lifelike appearance.
Striking Realism in 3 dimensions means far less decoys are needed to build an effective spread. We don't imitate the live duck, we duplicate it. 
Super tough polyethylene construction for a lifetime of hard use.
Shot damage will not affect the use of decoy.
Will not get brittle and crack of cold.
Painted areas are done by hand with tough, flexible, non-fading paint.
Vibrant coloring and dimension gives credibility to this decoy from from longer distances letting the Mallard floaters draw in the ducks. 
Basic colors including grayish brown body, black heads, and black foot-leg assembly are permanently molded in.
 HARVESTER GAME STRAP
Two stainless steel hardware 9.5" loops securely holds your impressive string of birds.
Comfort at length of your choice. Two inch wide strap adjusts from 53" to 66"
12" Cushion with non-slip rubberized backing for behind the neck or over the shoulder carrying.
1000 Denier Nylon. Extra strong, water resistant, quick drying, light weight and highly durable. Constructed to withstand any weather conditions.
Keeps your hands free to maximize your hunt.
Real Tree Camo Bigfoot Logo Hat
Real Tree Camo and Khaki Valley Mesh.
Just enough breathable mesh to make this a hat comfortable for any hunting environment. 
Bigfoot Decoys logo looks sharp centered on front face of the hat.
Realtree MAX-5 is perfect for any hunting environment. For the open fields the camo is filled with corn, wheat, oats and sunflowers; flooded marshes with reeds, cattails, can and grasses; and with open areas of mud, water, bark and shadows. This camo makes any hunter invisible.