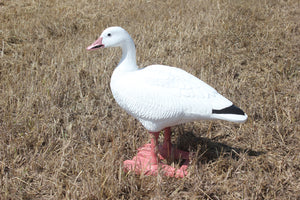 Bigfoot 1-Piece Snow Goose Decoys on Feet & Legs 6 PK
Sale price Price $159.99 Regular price
Guides from everywhere have discovered putting several dozen of these decoys around the shooters; helps bring the birds to the proper zone. Some guides have totally gone away from huge spreads of rags or shells, and have found that by putting out entire spreads of these ultra-realistic decoys, they can hunt over smaller spreads with greater success.
These Bigfoot Snow Goose decoys are constructed of the same tough polyethylene as all other Bigfoot decoys, and have molded in feather detail, and like all our decoys are hand painted.
With the added pressure of spring hunting, Snows have become one of the wariest of all geese to decoy. Full body decoys have become a necessity to have continued success decoying these wary birds. Adding Bigfoot Snows will give you the extra edge to help bring the birds into the magic zone!
6 Pack Includes:
3 Feeder Adults

1 Feeder Juvenile

1 Standard Adult

1 Standard Juvenile
Pricing Options:
$149.99/6 PK (price includes shipping)