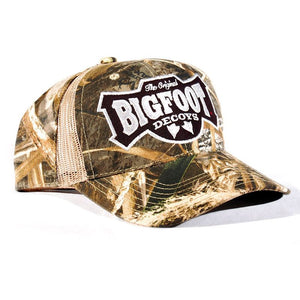 Real Tree MAX-5® Camo Bigfoot Logo Hat
Sale price Price $20.00 Regular price
Created for the Bigfoot Waterfowl Hunter. 
Real Tree MAX-5® Camo and Khaki Valley Mesh.
Just enough breathable mesh to make this a hat comfortable for any hunting environment. 
Bigfoot Decoys logo looks sharp centered on front face of the hat.
Realtree MAX-5 is perfect for any hunting environment. For the open fields the camo is filled with corn, wheat, oats and sunflowers; flooded marshes with reeds, cattails, can and grasses; and with open areas of mud, water, bark and shadows. This camo makes any hunter invisible.  
Good looking gear. Great price. 
As Art Ladehoff says...Never take any crap and don't buy any either.