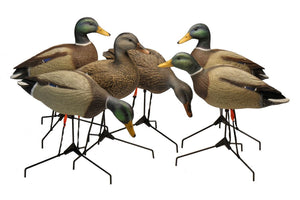 Bigfoot™ Motion Field Mallards 6 Pk. 4 Drakes. 2 Hens.
Sale price Price $99.99 Regular price $129.99
Packed 6 to box. 4 Drakes. 2 Hens.
Duck hunters that hunt in fields, ice, sand bars or very shallow water are in for a treat when they see the new Legacy Series full body mallard decoy from BigFoot®. Art Ladehoff, creator of BigFoot® designed, carved and feathered these full bodies with painstaking attention to detail.
With three different body styles, lifelike paint schemes and iridescent heads, there is no doubt hunters will do a double take to make sure these aren't live birds.
The realism of Legacy Series full bodies is further enhanced by the patented TRI-FOLD® motion base system. With a wider tripod base and dual flex cords, not only are these decoys stable but the motion is absolutely awesome.
As you can expect, the durability of the Legacy Series is second to none thanks to their one piece construction from rugged polyethylene and BigFoot's® proven paint process.