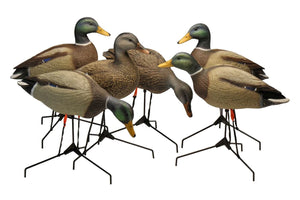 Bigfoot™ Motion Field Mallards 12 Pk. + 12-slot decoy bag
Sale price Price $199.99 Regular price $324.99
Bigfoot™ Motion Field Mallards 12 Pk.

8 Drakes. 4 Hens.
Duck hunters that hunt in fields, ice, sand bars or very shallow water are in for a treat when they see the new Legacy Series full body mallard decoy from BigFoot®. Art Ladehoff, creator of BigFoot® designed, carved and feathered these full bodies with painstaking attention to detail.
With three different body styles, lifelike paint schemes and iridescent heads, there is no doubt hunters will do a double take to make sure these aren't live birds.
The realism of Legacy Series full bodies is further enhanced by the patented TRI-FOLD® motion base system. With a wider tripod base and dual flex cords, not only are these decoys stable but the motion is absolutely awesome.
As you can expect, the durability of the Legacy Series is second to none thanks to their one piece construction from rugged polyethylene and BigFoot's® proven paint process.
BigFoot™ Field Duck Decoy 12-Slot Bag
One Big Bag. Strong and roomy to transport 12 assembled Field Decoys in one grab.  
Features
Premium 600D nylon with durable cold-crack proof quick-drain polymer mesh bottom.
Spacious size easily houses 12 decoys with legs/feet attached. 
Detachable, length-adjustable comfort shoulder strap Bigfoot Logo and strong clip metal hardware.
Two grab handles securely box-stitched on front and back.
One full side of bag foam lined for carrying comfort.
I AM BIGFOOT repeated throughout length of green strap and Bigfoot logo displayed on side of bag are the distinguishing brand details Bigfoot enthusiasts take pride in knowing Bigfoot doesn't miss. There is no mistaking Bigfoot quality in the decoys or gear.