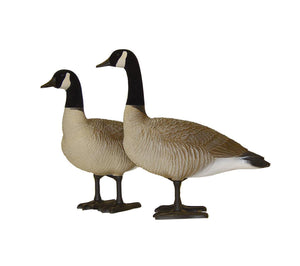 Bigfoot™ Canada Bull Decoys 4Pk. 2 Big Bull, 2 Little Bull.
Sale price Price $179.99 Regular price
Every flock has one. Does yours?
Features
USA Bigfoot Canada Goose Bull 4 pk.
2 Flocked Head styles, 2 Big Bull, 2 Little Bull.
 27"L x 31"H x 12"W
Every flock has the big old bull gander that is watching over his family, and that inspired the creation of the "Bull". 
The "Bull" incorporates everything that has made Big Foot the decoy of choice by serious hunters and guides since its beginning. It's constructed of the same tough polyethylene as all other Big Foots, and also has incredible detail molded into the body.
With its awesome size and incredible detail, this is sure to become the "Bull" of the field. Mix several of these in with your existing decoys to add even more realism to your spread.
Feather detail is molded in hand painted for a soft, lifelike appearance.
Striking Realism in 3 dimensions means far less decoys are needed to build an effective spread. We don't imitate the live duck, we duplicate it. 
Super tough polyethylene construction for a lifetime of hard use.
Shot damage will not affect the use of decoy.
Will not get brittle and crack of cold.
Painted areas are done by hand with tough, flexible, non-fading paint.
Realistic texture and color and true-to-nature pose creates visibility from longer distances and drawing in the geese.  
Basic colors including grayish brown body, black heads, and black foot-leg assembly are permanently molded in.