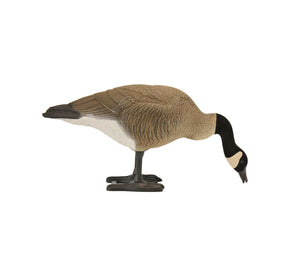 Bigfoot™ Canada Feeder Decoys 4 Pk.
Sale price Price $179.99 Regular price
USA Bigfoot Canada Goose Feeder 4 pk.  34"L x 26"H x 11"W.
Flocked Feeder Head Style. The original Big Foot upright decoys came with a feeder style head (which remains a favorite for many hunters), but soon after we saw the need for a true feeding Canada. The feeder's style is to this day the most realistic decoy on the market. Other companies have tried to copy this decoy, but the Big Foot feeder is still the king!
The feeders are constructed of the same tough polyethylene, and have the most detail of any decoy on the market molded right into the body. This molded in detail combined with our hand painted feathering, make this decoy almost come to life!