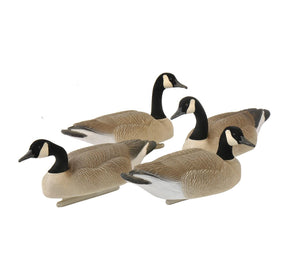 Bigfoot™ Canada Floater Decoys
Sale price Price $149.99 Regular price
USA Bigfoot Canada Goose Floating 4 pk.
Decoy Size
26"L x 12"W x 6.5" H.
Flocked Heads
1 Sentry
1 Upright
1 Resting
1 Shortneck
Soon after bringing goose hunters the original Big Foot, hunters started asking for a floating goose decoy that had the same realism and same rugged construction. Along came the Big Foot floating goose decoys!
These decoys feature a tough polyethylene body with a weighted keel for added stability, and insure a smooth ride in the roughest of waters. The weighted keels also make these self righting under most conditions.
Goose hunters from coast to coast have raved at the realistic look of these decoys, and many duck hunters add a few of these floaters to their duck spreads and soon find out how well not only geese, but ducks as well, love to decoy into these.